Will Today FINALLY Be The Day YOU Strike Gold in Real Estate?
Technique Once Reserved For
The Elite Real Estate Investors and Capitalists
REVEALED

Now You Too Can Make YOUR Millions
In These Crazy Times

Dear Real Estate Investor (aspiring or experienced),

Tim Randle here.

Of course I don't need to tell you, there are lots of astounding deals for the taking in Real Estate these days. Sheesh that's such a big story now you can hear it on the nightly news.

But so far that story has been like the gold in Fort Knox - You know those gold bars are piled high, you just can't get past the 'gate-keeper' to get to them.

Until there are lots of people that can do 'the taking', properties will continue to be available at historically low prices.

Why such a mismatch?

The Banks (mortgage gate-keepers) picked up all their marbles and went home crying.

Just about nobody has the ability to buy a house without taking out a mortgage. Heck, there were (and still are) so many wanna-be buyers who couldn't even put up 20% that the wheely-dealy boys created mortgages with 0% down to further inflate the bubble and keep the good times rolling...

...Until the good times rolled off a cliff. Now, even an 80% mortgage is much harder to get than pre-bubble times and the hordes of wanna-be buyers can't make the leap from renter to owner.

You know on the other side of a big problem is a big opportunity.
So how do YOU get on the opportunity side?
Simple really.
Get your mortgage money from people. Real people. Not banker people.

I'm not talking about hard money lenders.

Sure they got money. But their terms are a bit, umm, harsh. Relying on that source is too costly and risky to your profit margin. I'm talking about the large, little known and very over-looked pool of 'Private Money'. Regular people trying to build their savings. 10 years ago they were doing that in the stock market, or more conservatively in Treasuries and CDs. And what did they get for it - Wall Street stole half or more of their capital. Treasuries and CDs are trickling out interest rates BELOW inflation today.

These people NEED secure investments that give them at least 5%.
You need a non-bank source of funds to scoop up the great deals in Real Estate.
When you finance the deals with their money -
they get what they want - a decent return,
and you get what you want - fabulous profits.

True, you won't find these people in the 'Yellow Pages',

But, IF you could find them - easily, reliably - how would your life change?

For starters, instead of ringing your hands for all the great deals you CAN'T get, you'll be salivating over all the great deals you CAN get. And you'll be on your way to building your Real Estate Empire in the same fashion JP Morgan and the select group of his peers did when they had the cash and scooped up Real Estate and other assets at astounding bargains.

I, myself, am not a Private Money Matchmaker. And if I was I'd be charging you big bucks for my service, not unlike a hard money lender.

Instead, I've got something a whole lot better for you. A way for you to take control of your destiny and be a savior to other hard working regular people looking for a safe way to grow their savings.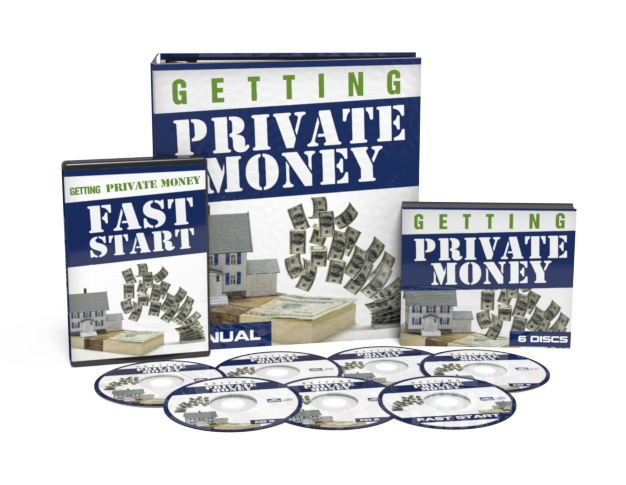 Getting Private Money is a home study course that delivers a step-by-step process and all the information and resources you need to build your pool of Private Money Lenders. It's not just part of the puzzle, but a start to finish guide that will help you build your empire and cash in on this real estate boom.

This treasure includes 6 CDs with 85 bite-size audio lessons - sit and listen or listen on the go. Either way you'll get your own personal instructor guiding and walking you through exactly what you need to do to find and secure your own pool of private money.

You also get a 148 page manual - read through at your own pace and keep it handy to quickly refer to particular topics right when you need them.

Also - Powerpoint Presentation, a complete sample prospect Powerpoint presentation program that you can copy and use as your own.

Plus - Credibility Kit, sample forms you can show the prospect to build your credibility as an investor and business owner.

Plus - Marketing Kit, sample ads, flyers, etc. you can use to attract private lenders to you easily and legally.

And - a Fast Start CD to get you started... FAST. These audios lay out the big picture and get your mindset focused and primed to dig into the details of the full program. They can also serve as a refresher.

"I purchased REIClub's Getting Private Money course 3 weeks ago. It was one of the best investments I have ever made. I've already found 3 new private lenders at great terms for my next two deals. Their course is very detailed and provides so much helpful knowledge and experience for anyone who is looking to take their real estate investing business to the next level. I highly recommend it!"

Omer Reiner
Davie, FL

Wait. It Gets Better...
If you're a serious player - ready to change your life and build your Real Estate Empire with Private Money, you can get this step-by-step blueprint for FREE.
(details below)

Getting Private Money is a definitive A to Z plan to solve your mortgage problem and make it possible to cash in on once in a life time Real Estate deals.

How does Private Money solve your money constraints and even make your profit margins bigger?

Private Money is a source - a non-bank source - of funds to finance deals. But in this case, the 'Bank' doesn't write the rules or control you. You negotiate ALL the terms directly with your private lenders - EVERYTHING from the rate to the payments. You are the 'Committee', you write the rules. Flexibility and control means more deals and more profit potential.

Private money is also more efficient. Have you ever looked at all the lender fees in a real estate transaction? Say goodbye to those. AND you'll be able to close deals much quicker, just about as fast as if you had the case of $hundreds piled up in your closet.
Getting Private Money reveals...
Why Private Money in the first place -


What it does for your ROI and profit potential
How it compares to the traditional Fannie Mae lending
How it compares to the better known alternative lending sources
Why it's a great investment for the private lender

Your ideal Private Lender


What are the key characteristic of an ideal Private Lender
Where are the best places to find them
How do you 'break the ice' with a prospect
The perfect elevator speech
Copy this presentation and never bumble again
Here's how to weed out the interested from the interested AND qualified

Setting up your hive to pull in a swarm of Private Lender bees


Two tried and true traditional marketing methods and the exact twists to produce the best results
Shake and bake
Hear Ye, Hear Ye
Getting great Bytes in the Digi-Sphere
Your auto-pilot engine

Doing the deal


You get to write the rules now - how to structure deals for higher profits
How to execute the Close

Your own Document box, no need to waste time on re-inventing


Marketing Kit
Credibility Kit
Presentation slides
Lender Packet
Remember Robert Allen and 'No Money Down'? Of course you do.
What was going on back then - the early 1980's? Mortgage rates at banks were crazy high - peaking at 18%. Basically, Sellers couldn't sell because banks weren't reasonably lending so wanna-be Buyers couldn't buy.

But back then houses weren't mortgaged up to and beyond 100% of value. Many more people had lots of equity or owned their homes free and clear - it was their savings not their ATM for the past decade. Many Sellers could afford to 'be the bank' and take monthly payments. No money down was a brilliant bank work-around strategy that worked for investors - THEN.

Sure doesn't work now. Different times, different constraints.

Today the best deals are in upside-down properties - short sales - and foreclosures.
Private Money is a bank work around strategy just as revolutionary today as No Money Down was in the 1980's. The right strategy at the right time.

"Getting Private Money"
Start your own revolution with
Getting Private Money
now and steal away these bonuses as well:
Bonus: Two Free Tickets to the Funding Tour
(Value: $1,995)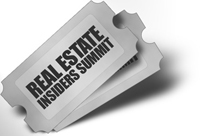 Join us at the Nation's only Funding Tour. This will be an incredible 4-day event. Unlike any other seminar you've experienced, the Funding Tour takes you out of the classroom and into real homes and real funding realities.

Not only that, you'll work with real world deals to come up with the best funding package in the room. AND if you want to learn how to be the bank, join us in the Bankers Round Circle and figure out how you would invest a Million Dollars into deals that would pull upwards of 12-15 percent annualized returns.

The Funding Tour will also:
Give you the tools, education, and training you need to get started quickly
Introduce you to like-minded investors, entrepreneurs and business owners who can help your business grow
Help you gain the confidence you need to speak with Affluent people to raise $10,000 to $10,000,000+ dollars for your business
Show you the inner workings of the private money loan business that only our attendees know
Jump-start your earning potential well beyond paycheck to paycheck

"Just wanted to say what a great course this is. It's clear, concise and in plain English. Can't wait to get my first lender using this course."

Jeff Cichocki
Denmark, WI

Bonus: First 10 Can Get the Course Free Rebate
(Value: $997)
We need success stories so the first 10 customers who use the course to do a deal and send us the details will receive a full 100% rebate of the purchase price. Anytime during the first twelve months you can submit the details of a deal you completed using the FCFH materials, along with copies of checks and other items, and we'll send you a check for the purchase price.

Your deal can be a rehab flip, assignment, short sale, REO, whatever...

...this makes this offer a CAN'T LOSE proposition!
Bonus: Private Money 3-Interview Set
(Value: $97)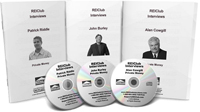 This expert series includes 3 interviews with seasoned pros - Patrick Riddle, John Burley, Alan Cowgill - in getting Private Money. Each of them specializes in different niches. All of them are swimming in Private Money to fund all the deals they have time to make. All of them agree this is the best environment for building wealth they've ever seen.

Que these interviews up to discover...
What is the #1 limiting factor for real estate investors... and how to blast through it
Why you should charge a private money lender $5,000 - $10,000 per deal up front and how to get it (nearly no one does this)
The place to go for your first investor. Where to go for your next investor... and the one after... and the one after...
Let's do lunch strategy... how to pick up the check... and millions in private money
Two very successful ways to advertise to the public - legally - to fill your lunch "seminar"
6 topics you need to cover in your investor presentations
What deal structure is best suited to IRA money
The precise three steps to private money on demand
Your best prospects start with...
Nobody wants sales pressure... the magic no-pressure phrase that's gets you invited to offer your opportunity
Put this 14 word phrase lead generation machine here
This 30 second script - revealed and dissected 26:13 into the conversation - attracts qualified leads like kids to birthday cake
"Have you ever done this before?"... even if you haven't here's the 3-part answer to that question that makes them trust you
5 word-by-word power persuasion phrases... put an end to "I'll think about it" and "No thanks"
Bonus: Buying Real Estate With IRAs CD
(Value: $39.95)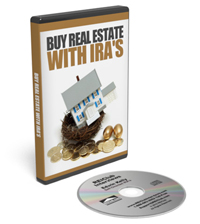 The average retired and retirement-approaching American has just about all their wealth in two places: their house and their retirement account(s) - IRA, 401(k), ect. In 2011 Retirement accounts were valued at $5 Trillion. That's a DEEP pool of money.

A good 97% of those accounts are invested in 'traditional investments'... stocks, bonds, CDs. Which means most of those accounts haven't performed very well over the last few years. And of course we know home values haven't done so well either.

The result - 'nest eggs' have been scrambled and folks NEED to generate some upside or contemplate their "Hi, Welcome to Wal Mart" future.

IRA's can invest in Real Estate and so few people know that.

Edwin Kelly was the Director of Business Development for Equity Trust, a premier self-directed IRA custodian. He also has a Real Estate license, a Series 7 license, a Series 62 license and real estate investment experience.

Edwin educates thousands of Real Estate Investors a year on how to set up a self-directed IRA and use it to invest in real estate and other 'non-traditional' investments.

Edwin will enlighten you on...
The two key enemies every investor faces and how to use these to your own advantage as well as to entice other IRA funds
The best way to learn the how is to...
The 3 investment environments are? And the best one is?
These are the two ways you can use IRA accounts
What are the two kinds of retirement accounts and the advantages of each
What's a custodian?
What will a custodian NOT do for you
Look here to find IRA accounts
The 3 simple steps to take to buy real estate with an IRA
Bonus: Using Virtual Assistants CD
(Value: $39.95)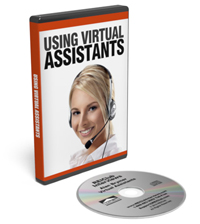 Listen to this CD to learn how to Outsource so things get DONE.

Alan Brymer, Entrepreneurial Award winner, subscribed to one guiding philosophy while still in his college dorm room breaking into an investment career: you can make more money if you don't do everything yourself.

He's been a successful full-time investor since the age of 22. His investment company was named one of the top twenty five companies under five years old by the Utah Valley Entrepreneurial Forum. He's a frequent guest expert for the media as well as a many times published author.

Alan is Founder and President of the Utah Valley Real Estate Investors Association and creator of The Assistant Who Pays Their Own Salary.

Alan will coach you on...
The two simple questions to ask whether you're an unproven rookie investor or a seasoned pro
You get what you pay for... not exactly
What you can learn from the TV show Criminal Minds that will improve your ability to hire outsourcers
One super easy strategy to instantly separate good candidates from not good candidates
Do you want local, national or international outsourcers
Commission or hourly - here's the black & white rule of thumb
How to train your outsourcers for free
What a contractor can teach you about outsourcing
Are you a control freak? Learn this easy math
Independent contractor or employee?
Bonus: Hard Money Lender List
(Value: $47)
We've got a list of over 30 active hard money lenders and you get it for free.

This is not one of those lists of hundreds where you have to call a hundred different lenders because they're all out of business. These lenders are actively lending right now.

Bonus: Free Shipping and Handling
(Value: $25)
You do not have to worry about the extra cost of shipping and handling, as we've got that covered for you.


Simple Question - Are You Serious About Your Future?
I know you've heard it before. And it sounds like a worn clichè...
This is one of the best times in history to make a fortune in real estate.
The market will return to normal - supply and demand more balanced, financing easier to obtain. And the great high profit deals will be far fewer. In fact, it's very unlikely you'll see a market this ripe with opportunity again in your lifetime.

The smart thing for you to do right now is click the Add To Cart button below. Become a Private Money Pro and seize the day!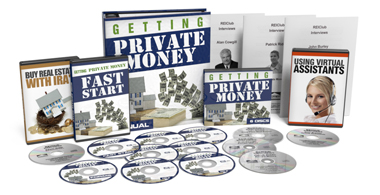 "Getting Private Money"
100% Ironclad Money Back Guarantee

I"m so confident that you will love this powerful real estate investing information that I"m willing to bear 100% of the risk for the next 30 days. That means that you can get in now plus get all the bonuses RISK FREE and give it a shot for 30 days. If you aren"t happy for any reason simply let us know and I"ll immediately cancel your order and I"ll even let you keep all the bonuses as my way of saying thank you!





Good Investing,




P.S. Don't forget about your awesome bonus items, including two free tickets to the Real Estate Funding Tour. Click the Add to Cart button and get started today.

And if you prefer a payment plan, we have those available for you as well...

"I found the Getting Private Money course to be a thorough, comprehensive guide to finding private lenders for real estate deals. The course provided a step by step guide for anyone to follow, from marketing, to presentation to closing. I highly recommend it."

Thomas Bryant
Plano, TX

All This For Only $297 Today
(and $250 in 30 days)



or
All This For Only $197 Today
(and $200 in 30 days and 60 days)



"The "Getting Private Money" home study course is a must have educational resource if you are a novice investor, or a seasoned real estate investor. This course teaches fundamental to advance techniques in "Getting Private Money", "Buying Real Estate with IRA's", "Using Virtual Assistants" and more, by some of the top leaders in the industry.

I was overwhelmed with the amount of information by the end of the third "GPM" audio CD. The information and concepts are explained in depth and in very easy to understand language. The course contains 12 hours of informative audio, a manual which includes the audio transcripts, hard copies and electronic versions of the sample forms for your use, and an extensive list of resourceful sites to help you develop and grow your real estate investment business.
This course delivers on how to create and grow a real estate investing business in today's market.

It covers private money fundamentals to marketing strategies, through closing the deal transactions. If you want to build your business with Private Funding, this course is a must have. In my view, it is truly a comprehensive course and "Getting Private Money" in a box. With insight from a leader in the industry, "Self Directed IRA's" provides you with the knowledge to instruct potential investors on how to use their IRA's. The Virtual Assistants section covers how you can outsource some of your daily tasks. I'm one who always had problems with delegating, so I'm planning to make good use of this service. I've been away from investing for a number of years and I'm very glad you created this course."

Donnell S.
Chalfont, PA